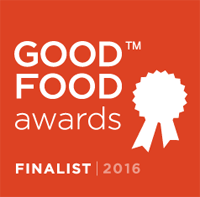 Two Million Blooms has just been named a 2016 Good Food Awards Finalist. We are honored to be recognized by this prestigious craft food competition.
Our raw honey distinguished itself through a Blind Tasting event followed by a rigorous vetting to confirm that it meets or exceeds the Good Food Awards standards around sustainability, production and social responsibility practices.
This year, 263 finalists were chosen among 1,937 entries in 13 different categories. In the honey category, 24 products were selected as finalists in the following subcategories: Liquid or Naturally Crystallized Honey, Creamed Honey, Comb Honey, and Infused Honey.
Winners will be announced Friday, January 15, 2016, at a gala Awards Ceremony at Fort Mason Center for Arts & Culture in San Francisco, California. Opening remarks will be delivered by the father of the food movement, Slow Food Founder Carlo Petrini. Medals will be bestowed by renowned chef and activist Alice Waters of Chez Panisse and organics pioneer Nell Newman of Newman's Own Organics.